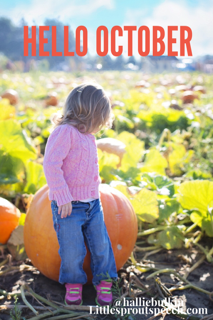 I hope October is off to a great start! Fall is a great season—not too hot, not too cold, and pumpkin EVERYTHING is everywhere — yum!! Unfortunately for us, the weather is not so fitting for a visit to the pumpkin patch this weekend. A bit bummed out since I was planning to take Lily for the first time!! But when bad weather comes our way we can always bake! So here are some great recipes to try at home this weekend while it rains cats and dogs courtesy of Hurricane Joaquin:
Melt in Your Mouth Pumpkin Cookies
Here's an easy yet delicious recipe for all you pumpkin lovers out there. It's a great way to keep the kids engaged while also getting that much needed culinary therapy! Get it here!
Homemade Pumpkin Spice Latte
Don't worry about having to trek all the way to Starbucks to get your pumpkin spice latte fix. Make your own in a crock-pot! Here's an easy recipe for you to try this weekend. Get it here!
Homemade Pumpkin Chocolate Chip Bread
Chocolate is the world's greatest creation. But pumpkin is pretty good too. What happens when you mix the two together? You get a match made in heaven. Try out this super delicious recipe. Get it here!
No-Fail Homemade Pumpkin Pie
And new this year (added in 2017)…check out the No-Fail Homemade Pumpkin Pie that Hallie made with her two-year-old. BIG hit and it turned out great (although we did buy a premade pie shell from the freezer section at whole foods!) Get it here!
I'm glad I got to touch base with you before this rainy weekend arrives! Stay safe, but most importantly, have fun! 
With Love,
Hallie Bulkin