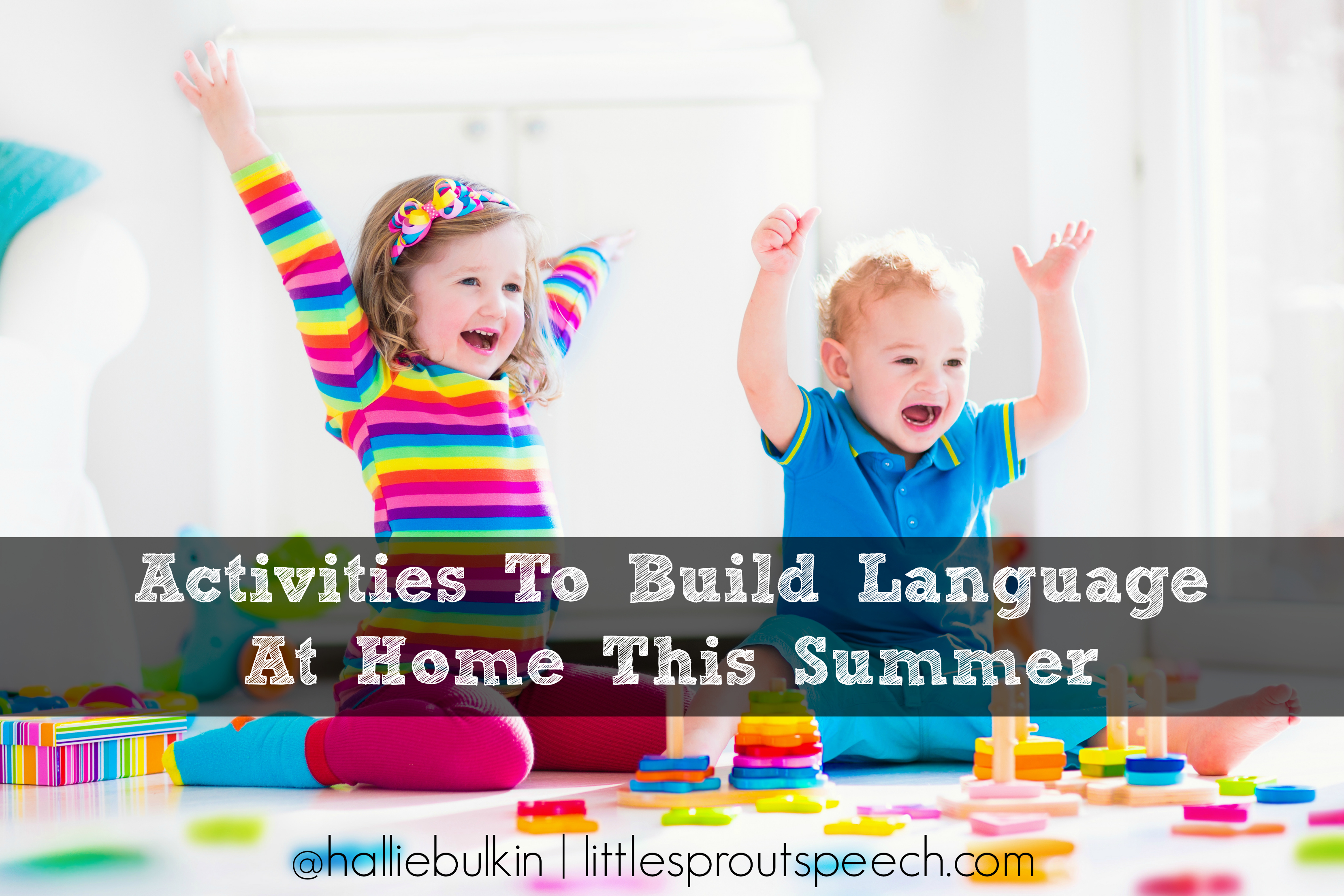 Summer is here and it is time to dust off the toys and work on those play skills! Does the thought of that scare you? Are you wondering where the heck to even start? You are not alone. Many parents really aren't sure what toys to use in play or what to saying when playing with various toys with their pre-verbal or young child. So here are some of my favorite activities (that I play in therapy with kiddos on a regular basis). Each activity suggests toys as well as words and phrases you might use. But these are just that, a suggestion, so be sure to change up the play as you see fit for you and your kiddo. If you are still feeling confused be sure to check out our additional tips at the end of this post.
Cars, Trucks & Trains
This is an all-time favorite amongst the boys and the girls that I work with daily.
So what do you need?
A few cars/trucks/trains
A road map, garage, train tracks or blocks to create a ramp.
If your vehicle has space for a person or animal inside, grab a little toy person or animal for putting inside!
Words/Phrases to work on:
Go!
Ready, Set, Go!
Vroom!
Go car
Car up/down
Car go up/down
Open door
Close door
Put on (train on track)
Put on top
Put in
Man in car
It's Snack Time!
If you follow our book club than you might know that I often present snacks that you can make or enjoy with your kiddo. It is so much fun to "cook" in the kitchen and there is so much language that surrounds cooking. If you haven't had your little one help you cook or bake in the kitchen, give this a go, starting with a simple snack!
What do you need?
A recipe & the ingredients
Any required kitchen utensils to create your recipe
An excited kiddo to help you with each step! 
Words/Phrases to work on:
More
Open it
Put in
Stir it/mix it
Stir more/mix more
Put it in
Dump it in
Bake cake
Cut cake
Eat cake/snack
Shooting Hoops
Another favorite that the kids love!
What do you need?
A couple balls (big or small)
Basket or container to throw ball(s) into
Words/Phrases to work on:
Ball
Ball in
Throw ball
Throw ball in
Get ball
Give ball
Put ball in
Pick up ball
Ball on table
Ball under table
Ball on floor
Ball fell out
Time To Build
What do you need?
Blocks
Or anything you can stack into a tower
Words/phrases to work on:
block
big block
block on
block on top
more block
block in
block fall down
put on
put in
put on top
take out
build up
build more
Playdoh Hide & Seek
This is a really fun game! We hide animals in the playdoh and your child has to dig them out.
What do you need?
Playdoh
Plastic animals or similar manipulatives
Words/phrases to work on:
Help
Put in
Put on
Take out
Where is it?
Here it is!
I found it!
Hide more
Need help/help me
Tips to engage your child:
If asked if they want to play and they don't respond, take out the toy and start playing and they will generally want to come check it out and start playing with you, too!
You can go with the flow. If the recommended words and phrases aren't working out, follow your child's lead and just say the words that come naturally to you (keeping it to 1-3 words per phrase).
Use lots of repetition. Using repetition gives your child a chance and extra attempts at imitating what you are saying. If they try (even if it doesn't sound much like the word you say) praise them! Celebrate! You might say, "I LOVE HOW YOU JUST SAID MORE" following their attempt at saying 'more'.
For ideas of what books to use in play, reference our books that we recommend based on the repetition they have in them! Check it out here.
I hope this sparks lots of ideas to help you get started in successful play full of lots of language with your little one! Here's to you and your communicating kiddo!
With Love,
Hallie Bulkin
Note: First appeared on July 6, 2015 on thedcladies.com