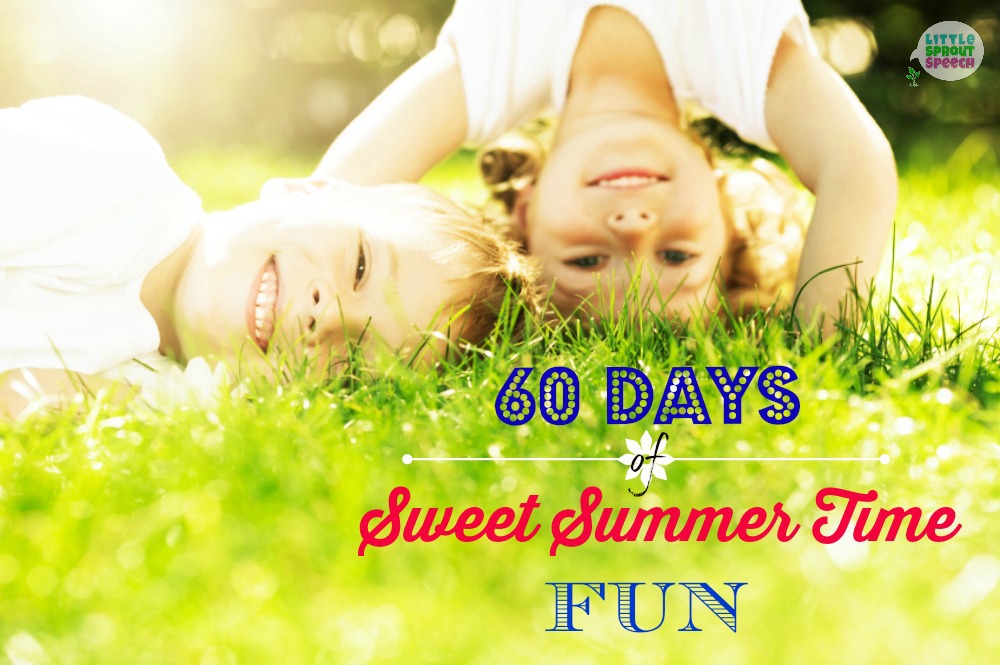 60 Days of "Sweet Summer Time" Fun: For You & The Kids
By Hallie Bulkin
Say hello to Sweet Summer Time. School is out, the temp's are up and your children want to be entertained 24/7. Are you ready?
Whether or not your kiddo is in camp this summer, the time will pass faster if you take on the roll of "Camp Counselor" and get creative! By popular request, I have compiled a list of 60 things you can do with your child(ren) this summer. That's one activity for every day of the two-month summer break. Print this list and stick it on your fridge. (You'll thank me later!)
Be sure to check off items as you go so you can see how much fun you had when you look back at the end of the summer. You can also highlight or circle the items you do that you love and want to do AGAIN!
NOTE: If you need recipes and more details on any of the listed items below, google it!
The List: 60 Days of Summer Fun
1. Make your own sidewalk paint, chalk or spray.
2. Cook a healthy lunch or snack and go for a picnic (e.g., in Rock Creek Park).
3. Blend a smoothie with fruit and veggies from your fridge!
4. Make lemonade and set up a lemonade stand.
5. Make your own popsicles (e.g., in Dixie cups).
6. Make your own bubbles.
7. Print off black and white pictures for your child to color or paint.
8. Make an art area with child safe scissors and paper scraps to practice their cutting skills.
9. Make your own playdough!
10. Make letters out of playdough and practice letters and letter sounds.
11. Make homemade pizza.
12. Make homemade ice cream.
13. Have a backyard campfire and make s'mores.
14. Camp out in the back yard; set up a tent!
15. Go on a nature walk & collect items. Discuss what you found.
16. Visit your local nature center or Botanical Garden: DC Botanical Garden or Brookside Garden in Silver Spring, MD.
17. Visit the DC Zoo.
18. Ride the Carousel at Glen Echo Park.
19. Sign your kiddo up for a toddler ballet and movement class or your 6-12 year old up for an art class at Glen Echo Park.
20. See The Puppet Co's production of Wizard of Oz or check out the Tiny Tot's theatre (designated days at 10am) at Glen Echo Park.
21. Take a trip to the National Harbor & ride the Ferris Wheel for views of DC.
22. Foster a dog! (I had to sneak that in here!)
23. Visit a farmers market (or 2) There are many in the DC metro area!
24. Visit your local farm & pick berries (Butler's Orchard, Homestead Farm, Larriland Farm).
25. Visit DC and the national monuments and/or museums.
26. Get a large box and make a boat or pirate ship out of it!
27. Make a slip & slide, set up a kiddy pool and/or kiddy sprinkler in your backyard!
28. Go to a Nationals or Orioles game.
29. Spend the day at a water park.
30. Locate July 4th Fireworks and make an afternoon/evening out of it.
31. Find child friendly locations for outdoor movie showings.
32. Visit Wolf Trap for a variety of puppet shows and storytelling.
33. Visit Strathmore on Thursday mornings for children friendly theatre shows.
34. Need to cool off? Check out the AMF Free Summer Bowling (each kid gets 2 free games a day) and/or Regal Cinema 10am $1 movie showings at specific locations (regmovies.com/movies/summer-movie-express).
35. Check your closest library for summer programs and schedules (e.g., story time, small group activities, etc.).
36. Check out new books every 1-2 weeks at the library.
37. Need a bounce? Try out Bubble Bounce at Montgomery Mall or Bounce U in Rockville.
38. Check out the LEGO convention (there is a play area for kids) August 2-3 at the Dulles Expo Center. Check it out at brickfair.com/play
39. Find your closest interactive water fountain and head over to run through it and cool off AKA "water" your kiddos!
40. Go biking.
41. Plant a garden or vegetables/herbs.
42. Make binoculars out of toilet paper rolls and go on a "bear hunt" after reading "we're going on a bear hunt".
43. Play in a sandbox and build a sand castle.
44. Make leis out of flowers you pick outside and have a backyard luau.
45. Visit the local fire station.
46. Take a day trip to the Baltimore Aquarium.
47. Go on a hunt for Rocks. Paint them and make a pet rock.
48. Catch bugs in a jar and draw them.
49. Catch a firefly and watch him glow! Then read Eric Carles, "The Very Lonely Firefly".
50. Create a summer Olympics event with obstacle courses and mini golf in your backyard.
51. Finger paint using paint mixed with shaving cream for a fun 3-D picture!
52. Play with shaving cream on the table and draw letters, shapes and numbers.
53. Make fruit flavored water and water yourselves (drink water) as much as you can! Staying hydrated is VERY important in the summer heat.
54. Have family game night. Make sure the game(s) chosen can be enjoyed by even the youngest player!
55. Get a brown paper bag from the grocery store, cut it down the middle of the back and cut out holes for the neck and arms. Paint/color the bag and glue items on to it. Make a summer costume and put on a show!
56. Go on a scavenger hunt at home when it's too hot to venture outside.
57. Have a "car wash" with the hose, bubbly soap and the toddler's car/bike.
58. Take a trip to the beach!
59. Make your own music class and have a sing-a-long. (Visit YouTube)
60. Create a music band from pots, pans, containers and kitchen utensils.
ANYTHING and EVERYTHING you do on this list involves communication and language. Be sure to talk about EVERYTHING you do in each of these activities and reflect on what you did for review of concepts and new vocabulary (especially for younger children). You will give your child a wealth of new experiences and hands-on learning if you completed even ¼ of this list over the summer!
HAVE FUN & BE SURE TO "WATER" YOUR KIDDOS IN THE SWEET SUMMER HEAT!
Stay Cool!
Hallie
Note: This post was first published on DCLadies.com in June 2014.