Theme of the Month
Spring
Book of the Week
The Very Busy Spider
By Eric Carle
Color of the Week
Black
Go on a hunt for black bugs this week!
The bugs are starting to come out now that
fresh mulch has been planted.
And what kid doesn't love BUGS?
(I am not such a fan, but most of the kiddos are!)
Song/Nursery Rhyme of the Week
The Itsy Bitsy Spider
The itsy bitsy spider
Went up the water spout
Down came the rain
And washed the spider out
Out came the sun
And dried up all the rain
And the itsy bitsy spider
Went up the spout again
Letter of the Week
S for Spider
"Every letter makes a sound, S says sss"
Snack of the Week
Spider Crackers
Use a round cracker for bottom
Put nut butter on cracker
Stick pretzel sticks on both sides for the legs
(3-4 per side)
Put round cracker on top
Add raisins on top for the eyes
(use nut butter to stick the eyes on)
Art Project of the Week
Make the snack!
THEN…
Make hand print spiders!
Get paper, black paint, paint brush and googly eyes!
Paint your child's hand black and press it down on the paper
with fingers facing left.
Repeat with other had but this time lay the palm over the area
that is already black on the paper from their other palm…and make sure
the fingers are facing to the right.
Add some googly eyes and you have a spider!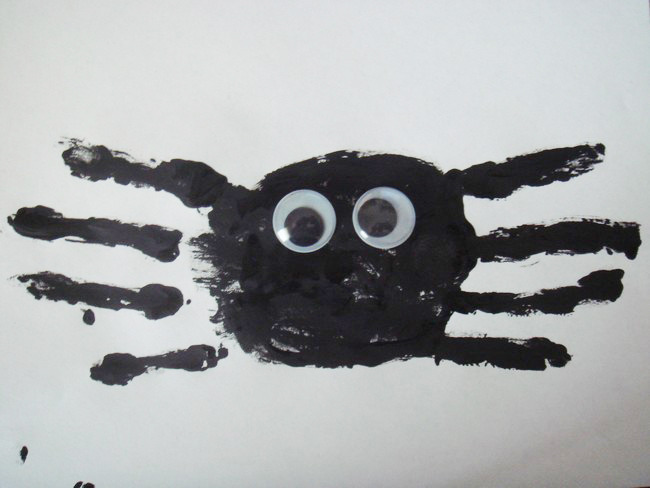 Field Trip of the Week
Here in DC you can go visit the Museum of Natural History (FREE!)
In other areas, get on google and type in "spider museums" or "insect museums kids"
to see what is available in your area.
I don't love creepy crawlers but the kids usually do!
(You can also go to the pet store and check out the big spiders there!)
App of the Week
Educational activity center and sing along app for FREE!
——-
We are here to serve YOU! Hop on over to our Facebook page and share what you love most about SPRING! For me, it's the flowers and warmer temperatures!
With Love,
Hallie
P.S. Please note the affiliate link included with book title for your convenience.