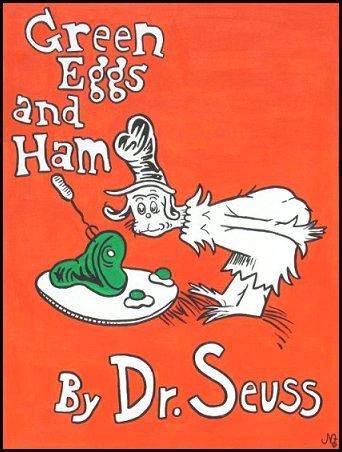 Theme of the Month
Dr. Suess
Book of the Week
Green Eggs and Ham
By Dr. Seuss
Color of the Week
Green
Have fun pointing out all of the Green in the book!
Then look for Green both in and outside of your home.
Is it spring where you are yet?
Can you see the green grass and flowers blooming? Go on a nature hunt for green!
Song/Nursery Rhyme of the Week
Have fun dancing this week to Green Eggs & Ham
From Seussical the Musical!
Here is a fun little rhyme you can say and act out this week.
Letter of the Week
E for Eggs
"Every letter makes a sound, E says Eh!"
Snack of the Week
"GREEN EGGS" (and HAM?)
What fun you can have this week making green eggs!
Add a little food coloring to egg whites to get a NICE green color when you cook them!
If you love Ham, add that, too!
Now you have your very own Green Eggs & Ham!
How fun!
You can also follow the recipes here.
Art Project of the Week
Color a page!
Get It Here
Color away!
Pin the Eggs on the Plate!
Get It Here
Don't forget to use our color of the week, green!
Field Trip of the Week
You have two adventures to go on this week!
Your first is the nature walk to find Green (see above!)
Your second is to go to the grocery store
With your little one to buy all of the ingredients
You need to make Green Eggs!
Trips to the grocery store are adventures!
Let your little one help you go on a hunt for
eggs, green food coloring, etc.
Make a list (in words or pictures) and check it off as you go!
App of the Week
Green Eggs & Ham – Interactive App
——-
We are here to serve YOU! Hop on over to our Facebook page and share your favorite toddler apps with us!
Have fun with the Dr. Suess & & Green Eggs theme this week!
On to our ZOO theme next week!