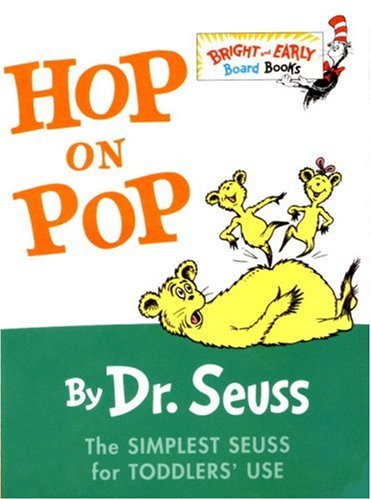 Theme of the Month
Dr. Suess
Book of the Week
Hop On Pop
By Dr. Seuss
Color of the Week
Yellow
There is lots of yellow to be found in this book!
As always have fun finding yellow around your house.
Look for yellow kitchen utensils, fruits and boxes in the kitchen!
Song/Nursery Rhyme of the Week
We are going to focus on the word "hop" this week.
Here is a fun little rhyme you can say and act out this week.
Two feet together and lift up one.
Jump with the other, what have we done?
We made a hop!
We will never stop!
Hopping, hopping, hopping.
Never ever stopping!
Letter of the Week
H for Hop
"Every letter makes a sound, H says huh!"
Snack of the Week
Just like in the book, eat a snack with brown & black!
In the book they eat the following:
sandwiches, green apples, bananas, and glasses of milk/water.
There also appears to be a bowl of hot dogs present.
Enjoy these snacks throughout the week.
Art Project of the Week
Suessville has a fun coloring page for Hop on Pop:
Get It Here
Color away!
Don't forget to use our color of the week, yellow!
Field Trip of the Week
If your weather isn't frigid or super rainy go for a hop around the neighborhood (instead of a walk). See how many hops it takes to get to the first tree/bush and keep counting hops until your little one is all tired out!
If the weather is not cooperating, go to the library or book store
and find more Dr. Suess books to bring home for March 2, Dr. Seuss' birthday and Read Across America!
App of the Week
Another fun Suess App!
Hop On Pop – Dr. Seuss gets interactive!
——-
We are here to serve YOU! Hop on over to our Facebook page and share your favorite toddler apps with us!
Have fun with the Dr. Suess & the hopping theme this week!
One more week of Dr. Suess is coming up next week.