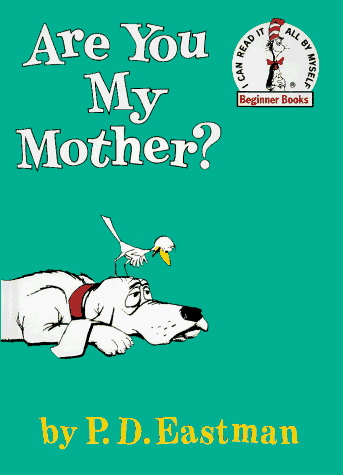 Theme of the Month
Dr. Suess
Book of the Week
By P. D. Eastman
Color of the Week
Brown
Most of the animals are Brown in the story
So let's focus on Brown this week!
As you read through the story be sure to
Point out all of the brown animals!
Song/Nursery Rhyme of the Week
Little Bird, Little Bird
Author Unknown
Sung to: "Twinkle, Twinkle, Little Star"
Little bird, little bird, fly around
Up to the sky, down to the ground.
Little bird, little bird, flap your wings.
Open your beak and sweetly sing.
Little bird, little bird, fly to your nest.
Now it is time to take a rest.
Letter of the Week
Y for You
"Every letter makes a sound, Y says Yuh!"
Snack of the Week
Tree & Bird Nest Snack
For the Tree: Slice cucumbers and put 1 in the middle with
6 circling the center cucumber. Use pretzel sticks under the cucumbers for the tree trunk!
For the bird nest: Get a tiny bowl and put some cereal (e.g., bran cereal) on the bottom. Here's the real treat…Put some chocolate mini eggs or jelly beans in the nest for the bird eggs!
Have fun with this one!
Art Project of the Week
Bird Feeder
Take some stale bread and cut it into the shape your child chooses (star, square, circle).
You can use a cookie cutter, too!
Next, poke a hole in the top ¼ of the bread, thread with a piece of ribbon
so you can hang the bird feeder.
Next put peanut butter or honey on the bread
and then add the bird seed!
Let it set and hang it outside.
Be sure to watch from the window to see if any friends visit the bird feeder. Lots of language comes from hands-on art projects with a follow-up activity (in this case bird watching out the window).
You can talk about birds, eating, seeds, ask "where" questions:  where are the birds? Where are the seeds going? Etc.
Field Trip of the Week
Go to a local bird store and visit the birds to learn more about them.
Many Petco's, Petsmarts and Wild Bird Centers have birds to visit.
Have fun!
If you have rubber duckies at home, you could make your own pond
In the bathtub or a bucket filled with water and
ducks floating & pretend to feed the ducks!
Have fun!
App of the Week
Learn more about birds!
Birds Preschool Toddlers Lite -FREE!
——-
We are here to serve YOU! Hop on over to our Facebook page and
share your favorite pre-literacy apps with us!
Have fun with the Dr. Suess & Bird theme this week!
Next up, more Dr. Suess!
With Love,
Hallie