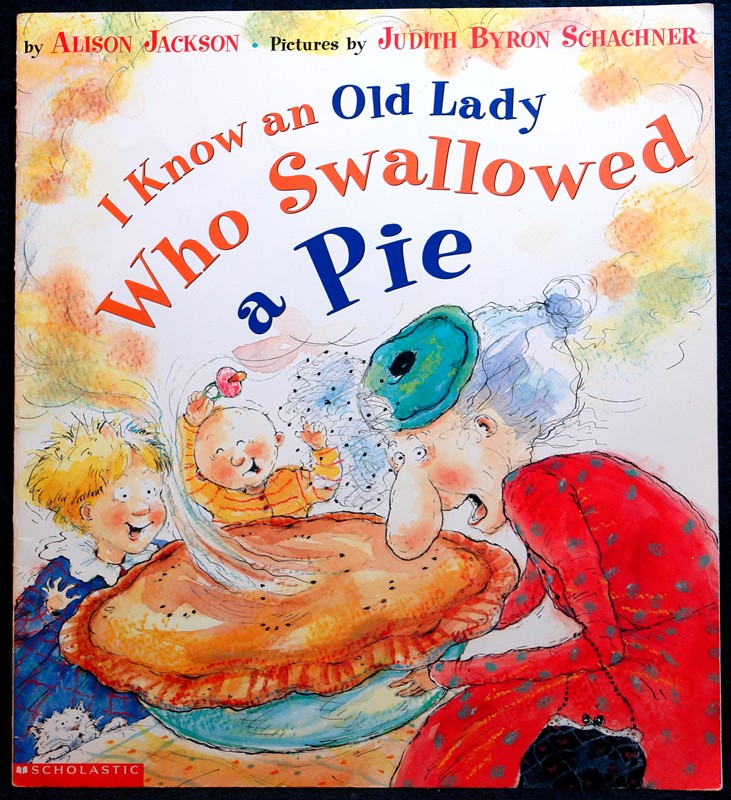 Book Club Week 10:
I Know an Old Lady Who Swallowed a Pie

By Hallie Bulkin
So I have pie on the mind. I was ready to make pumpkin pies yesterday but my family talked me out of it. I have the organic ingredients so it's going to happen at some point in the next several days!
In the meantime, I could not get the song, "I know an old lady who swallowed a fly" out of my head,
which reminded me of this week's book.
Theme of the Month
Thanksgiving
Book of the Week
I Know an Old Lady Who Swallowed a Pie
by Alison Jackson
Hint: In the book, the last line of every refrain is "perhaps she'll die," which I change this to "perhaps she'll cry" and then we pretend to cry (boo-hoo-hoo). I much prefer cry over die, I don't know about you! It's simple to type out the word "cry" and cut and paste it into the book over the word "die" on each page as well.
Color of the Week
Brown
Review and continue to label 5 new brown things a day
Song/Nursery Rhyme of the Week
I Know an Old Lady Who Swallowed a Fly

(Replace the lyrics in "I know an old lady who swallowed a fly" with the lyrics from this story
You can get an idea of how to sing the lyrics for…"swallowed a fly" by watching the video below!)
Letter of the Week
P for Pumpkin Pie

"Every letter makes a sound, P says puh!"
Snack of the Week
Organic Pumpkin Pie
Make it as your art project this week.
BUT first, check out the app and use the app as a sequencing activity  to learn how to bake a pie
and how to follow sequence/directions.
Have fun!
Art Project of the Week
Make a Pumpkin Pie!
Here's your recipe.
Field Trip of the Week
Head to the store to go on a adventure to collect the ingredients you need for your art project and snack this week
App of the Week
Pie Maker
FREE app!
Note: Complete this first so you review the steps needed to bake a pie.
Then use this as your guide when you are making it to help your child make predictions about what step might be "next"!
We are here to serve YOU! Hop on over to our Facebook page and
share your favorite toddler apps with us!
Have fun with the Pie theme this week! Next week we continue our Thanksgiving theme!
With Love,
Hallie
P.S. Please note the affiliate link included with book title for your convenience.