Book Club Week 5:  Go Away Big Green Monster!

By Hallie Bulkin

I am SO excited for this week's book that I considered making it the book of the MONTH!!! I felt that you might get bored of it too quickly and lose appreciation for this AWESOME book so we are just going to keep it as the book of the week 🙂 So why do I LOVE this book? It is simple, fun, can be made to be so silly and it breaks down how you make the monsters face (and then how you "un-make" his face according to one of my three-year-old clients, ha!). 
Theme of the Month
Halloween
Book of the Week
Go Away Big Green Monster!
by Ed Emberley
Hint:  Focus on facial feature & color vocabulary this week
(eyes, nose, mouth, teeth, ears, face, hair, blue, green, yellow, red, white, purple).
Color of the Week
Green
(but the book has all colors!)
Label 5 new green things a day!
Song/Nursery Rhyme of the Week
"If you're a monster and you know it"
Sung to "If you're happy and you know it"
If you're a monster and you know it wave your arms
If you're a monster and you know it wave your arms.
If you're a monster and you know then your arms will surely show it.
If you're a monster and you know it wave your arms.
Continue with:
…show your claws
…gnash your teeth
…stomp your feet
…growl out loud
 
Letter of the Week
M for Monster
"Every letter makes a sound, M says Mmm!"
Snack of the Week
Green Monster Smoothie
Makes 2 kid-sized smoothies (or 1 big adult smoothie)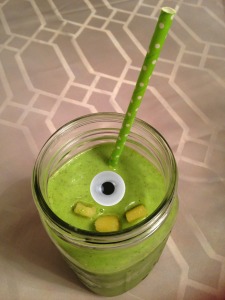 1/2 cup vanilla almond or coconut milk (I use unsweetened vanilla almond milk.)
1 cup frozen pineapple pieces
1 cup frozen mango chunks
1 big handful fresh baby spinach
Variations:
– add a small container of yogurt for added protein and calcium
– 1 tbsp chia seeds (did that in this pictured smoothie)
– 1 tbsp flax seeds
– 1 tbsp natural flaked coconut
– 1 tbsp peanut or almond butter (usually with ½ a banana in place of pineapple & mango)
Pour milk into a blender. Add pineapple, mango, and spinach. Cover with blender lid and blend to combine. If blender stops turning, add a little more milk. You can add ice but it's not necessary with the frozen fruit. The fruit makes this smoothie sweet so no need for any added sweeteners (which I don't use or recommend anyway!).
Art Project of the Week
Color, cut and paste the pieces to make your own green monster.
Go here to get the template: GREEN MONSTER
I will be doing this all week with some of the kiddos I work with!
 
Field Trip of the Week
Local Farmers Market to get
Green Foods for your Green Monster Smoothie!
App of the Week
We are here to serve YOU! Hop on over to our Facebook page and share your favorite toddler apps with us!
Have fun with the Halloween theme this week!
With Love,
Hallie