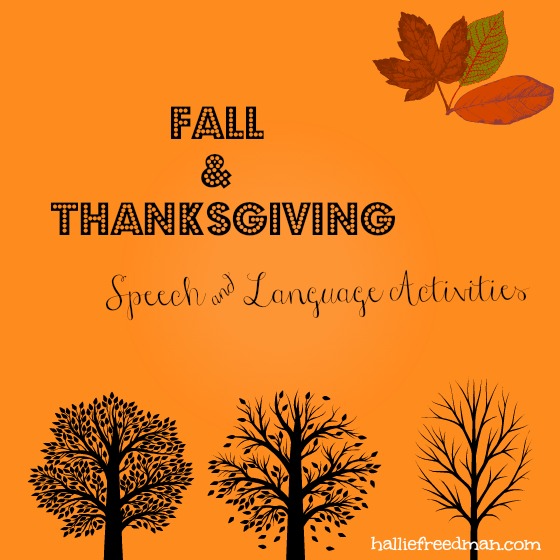 Fall & Thanksgiving Speech & Language Activities
By Hallie Bulkin
One of the best ways to teach a child a new skill is to center it around a fun activity. Most preschool children will not sit at a table and complete "drill" work. So the alternative is to find a relevant theme and make learning fun. After all, if you are bored, so is your child!
One of the easiest ways to make an activity relevant and fun is to focus it around the current season and/or upcoming holiday. Here are some Thanksgiving activities and books that your child will enjoy.
To target SPEECH Sounds: November is a great month to focus on the letter sounds for P & T. "P" for potato, pie, pumpkin & "T" for Turkey! You can use books about Turkey's and the Thanksgiving feast to touch on some of these target sounds and vocabulary words. Some of my favorite Thanksgiving books are listed at the bottom of this post.
A common preschool LANGUAGE goal is increasing your child's phrase length. So if they are speaking in two word responses at the age of three, you will want to focus on modeling and having your child repeat three-word phrases. One way you can do that is by using a homemade book like this one found at enchantedlearning.com.
Using the same phrase repeatedly can help your child learn to use that phrase. This particular book uses "I see…" to help teach one of many possible 3-4 word phrases.
If they are not quite ready for learning 3-4 word phrases, you can break it up into 2 parts… and have them say 1-2 words at a time. That would look like the following:
You say: "I see"
Child repeats: "I see"
You say: "Turkey"
Child repeats: "Turkey"
Note: If your child is not yet at the phrase level then you can read the "I see" part of each page and ask the child to label the Thanksgiving vocabulary item featured on each page.
As you complete the book (either at the single word label or phrase level) the child can color in the Thanksgiving vocabulary items as a reward.
Another common preschool LANGUAGE goal is learning to respond to WH-questions ('who', 'what', 'where'). You can work on that as you read ANY book!  Talk about the pictures and describe WHO you see, WHAT they are doing, and WHERE objects are located. Reading is always a great choice for a language rich activity.
Last but not least, one of my favorite activities is to go on a nature walk! There are endless possibilities here. Take a baggy (and allow your child to decorate it first) and collect acorns, different colored leaves, and whatever else you find on the ground! This is a great opportunity to talk about the changes in the Fall (falling leaves, different colors of the leaves, etc). Once you get back glue the items to a piece of paper for a Fall collage!
As promised, here are some of my favorite Fall & Thanksgiving books:
I know an old lady who swallowed a PIE! By Alison Jackson
Mouses First Fall by Lauren Thompson
When the Leaf Blew In by Steve Metzger
Leaves by Melvin & Gilda Berger
The Wind Blew by Pat Hutchins
Fall Changes by Ellen B. Senisi
Welcome Fall (board book) by Little Scholastic
Mr. Turkey, Mr. Turkey (Sung to Where is Thumbkin) ~ An adapted book by Kristine Drum to work on "where questions" & prepositions
Happy Fall & Thanksgiving!!
Love,
Hallie Bulkin