Hallie Bulkin has been featured on:


Dear frustrated parent, teacher, therapist, and anyone who has a child with unwanted behaviors,
Does your child hit, kick, bite or push and struggle to follow the rules? It can be so hard and exhausting to deal with these behaviors!
As a speech-language pathologist I see all kinds of parents, many in tears and unsure of what to do next, who's children are struggling with physical behaviors like hitting, biting and kicking. Sadly, many times they are labeled the bad or  naughty kids at school because hitting, pushing, kicking, biting or "disobeying" the rules are the only way they know how to communicate and get along with kids and/or adults in their environment right now.
Have you ever wished there was an "easy button" or a magic wand to eliminate your child's unwanted behaviors?
STOP losing sleep and stressing over who your child my take a bite out of next!
The SOLUTION You Have Been Looking For!
Using a picture guide to target unwanted behaviors (hitting, kicking, biting, pushing) has been wildly successful with children of all ages and disorders (autism spectrum disorder, sensory processing disorder, language delays and disorders, and more).  Now I share these easy-to-implement tools with you! They are targeted, simple and easy to understand for children of all language levels.
After many years of trial and error, you now have at your fingertips, the guides that work best!
Who are these books for?
For parents who want to help their children learn what they can use their mouth, hands and feet for (and what NOT to do with their mouth, hands and feet!)

For parents who truly care and are not willing to give up

For children who need help understanding when to follow directions (before getting kicked out of school)
In these special child-focused digital books, there are 4 guides each targeting a specific unwanted behavior, including:
Biting

Hitting, Pinching & Pushing

Kicking

Not following rules
Introducing the VERY FIRST series of Behavioral Picture Guides: 
How To Change Those Unwanted Behaviors.
Sneak peek into one of our guides: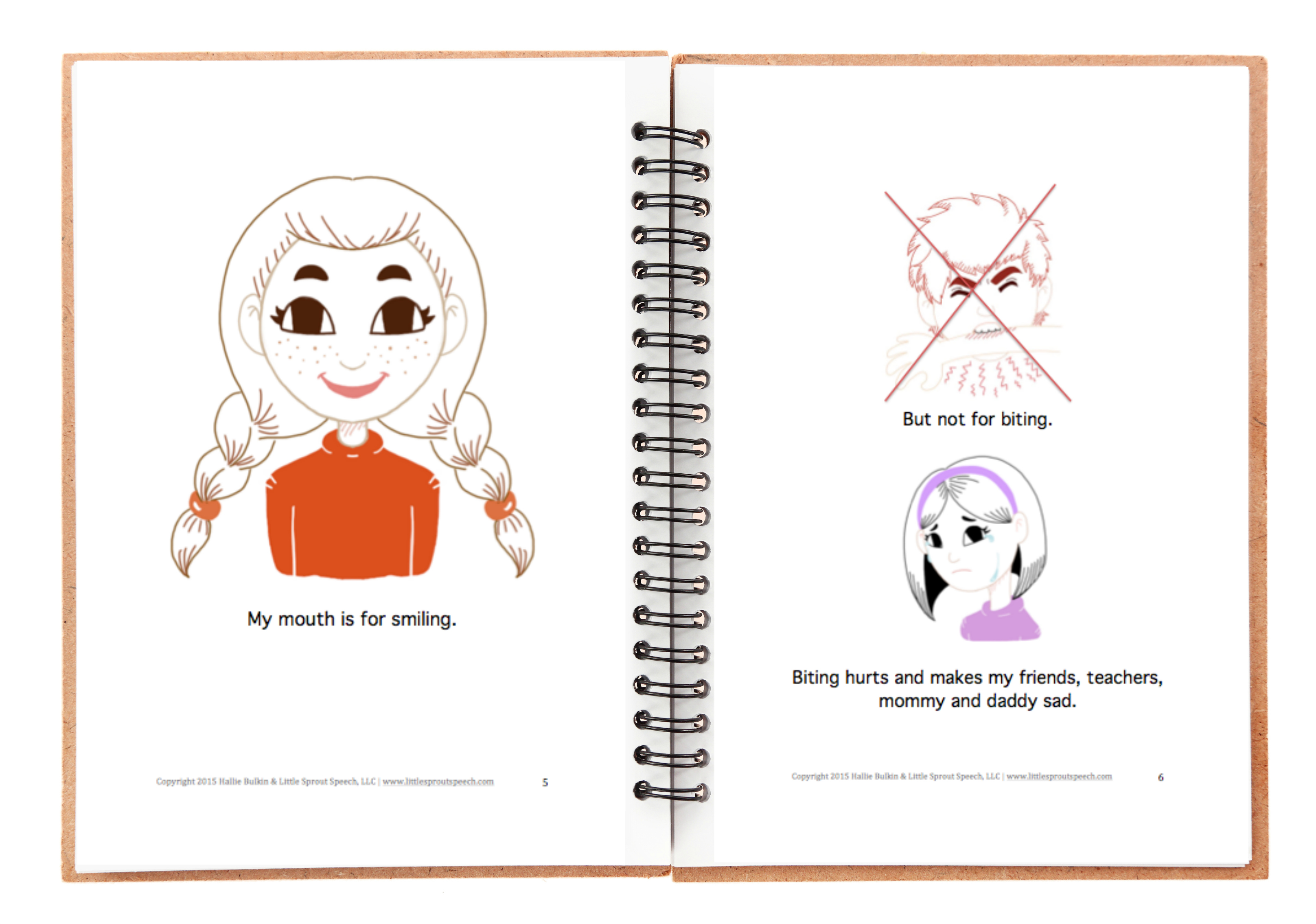 What will you get? In this series, your child will learn:
What they can & cannot do with their mouth

What they can & cannot do with their hands

What they can & cannot do with their feet

The difference between a choice & a have-to-do

How their actions make others feel

Through pictures that show them exactly what to do
You can find Hallie's Picture Guide (AKA "Social Story") tips on the Little Sprout Speech TV website!
Get instant access to these incredibly helpful, simple and easy to understand guides that will help transform your child's behavior today.
Only $27

IMMEDIATE DIGITAL ACCESS