Hallie Bulkin has been featured on:
Dear frustrated parent, teacher, therapist, and anyone who has a child that's struggling that you love…
Are you one of those amazing, blessed parents who has a child that's struggling to make friends? It can be a difficult journey.
As a speech-language pathologist I see all kinds of parents, some in tears and others who are angry, who's children are struggling to even know how to approach other children. Sadly, many times they are sitting on the playground watching other children from across the field as the other children are happily playing.
Have you ever wished there was an "easy button" or a magic wand to help your child make friends and feel accepted?
STOP feeling guilty and depressed that your child has no friends or has a hard time interacting with other children their age!
Learning To Communicate With Your Child
CHANGES EVERYTHING!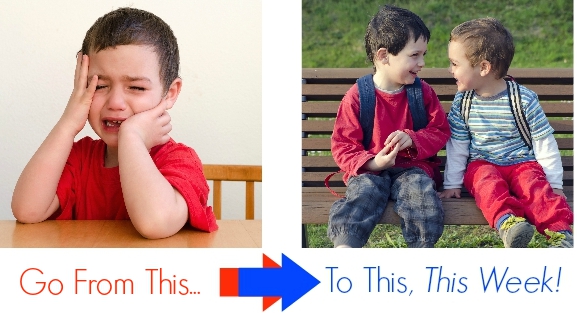 Using mini stories to target making and playing with friends has been wildly successful with children of all ages and disorders (autism spectrum disorder, sensory processing disorder, language delays and disorders, and more). Now, I share these easy-to-implement tools with you! They are targeted, simple and easy to understand for children of all language levels. 
After many years of trial and error, you now have at your fingertips, the stories that work best!
Who are these mini stories for?
For parents who want to help their children make friends

For parents who truly care and are not willing to give up

For children who need help understanding personal space (before they lose their friends)
In these special child-focused digital books, there are 4 mini stories each targeting a specific behavior, including:
Asking A Friend To Play

Sharing: What To Do When A Friend Takes My Toy

Sharing: Instead of Taking My Friends Toys

Personal Space
Introducing the second series of Mini Stories: 
How To Teach A Child To
Make & Keep Friends
What will you get? In this series, your child will learn:
How to ask a friend to play

What to do instead of grabbing a friends toy

What to do when a friend takes their toy

How to respect others personal space

How their actions make others feel

Through pictures that show them exactly what to do
PLUS $20 in FREE BONUS CONTENT
2 OF HALLIE'S BRAND NEW MINI STORIES: 
Playing Games: Winning & Losing

Taking Turns In Play (And Not Just Playing By My Rules)
Get instant access to these SIX incredibly helpful, simple and easy to understand mini stories that will help transform your child's behaviors today. 
Only $27
IMMEDIATE DIGITAL ACCESS
What Hallie's Clients Are Saying:
"I purchased these a few months back and they have really helped my child's transition to school. The school uses them with my little boy…It is a slow process but these social stories are helping him to respect others personal space, he talks about 2 close friends already but his speech is limited. The school is helping the other children too by teaching them what autism is and getting them to do 'stop' and 'too close' symbols and so forth." Katie Stone
I have been using these with my child at home and sent a copy into her school for her speech pathologist to work on with her. They said they will work on it since we are seeing so much progress at home. It's very exciting to see her go up to another child and ask them to play. She is also grabbing less, which has helped a lot since she always used to grab her little brothers toys. I still have to tell her not to sometimes but she is doing it much less! Sabrina C.
 I really love how short they are. They keep my sons attention. It is so hard to get him interested in "books" so these short mini stories are perfect. Thanks! Andrea King